Semuliki National Park – The True Birders' haven
Semuliki National Park occupying an isolated slice of Ugandan territory beyond the Rwenzori, the forested Semuliki National Park represents the easternmost track of the Congo's great Ituri Forest. This is an exceptionally exciting destination for birds and primate watchers.
The 441 recorded bird species include 216 forest birds and 80 Central African species found in few, if any, other forests in East Africa. Black Dwarf, hornbill, Shining blue kingfisher, Nkulengu rail and yellow-throated Nicator are just a few random highlights sighted by the park's experienced guides.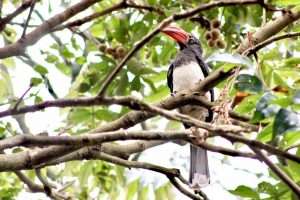 In addition, an astonishing number of primates species can be found within 6 km of the primeval hot springs that bubble out of the rift valley floor at Sempaya. Among the list of primates, the 12 diurnal primates include the blue De Bazza's and Dent's Mona monkeys and red colobus. Though birdwatchers overnight in basic UWA bandas, most travelers visit Semliki as a day trip from Fort Portal.
Activities to do in Semuliki National Park
Sempaya – Ntandi road
The 5km section of public road between Sempaya and Ntandi village runs through one of the loveliest track of forest in Uganda and provides clear view up into the forest canopy to spot birds and monkeys. The pretty Mungaru Falls lie in the North Rwenzori forest Reserve, just off the Bundibugyo road 500m beyond the park office.
Sempaya Hot Spring
The Hot Springs at Sempaya are Semuliki's most famous attraction. Two main springs are set in a lush swampy clearing close to the south-eastern corner of the forest. The outer spring is just a few minutes walk from the Sempaya park office.
This is dominated by a boiling geyser (103 degrees) which spurts up to 2 meters high from a white, iced cake like base of precipitated mineral. Water also bubbles in small pools in which eggs can be cooked. The more distant inner spring is reached by a 30 minute trail that leads through beautiful palm forest before crossing the swamp on a boardwalk. This spring is a broad, steaming pool about 10 m across.
Long distance walks
For those who cherish an invigorating walk, Semuliki famously treaded on trails take you through the forest where you will be able to enjoy its richness as you see several animals including the duiker, majestic elephants, De Brazza's Monkey, buffalo, hippos and crocodiles lazily whiling away their time near the Semliki River.
The forest is also remarkably rich in primates like Chimpanzee, Black and White Colobus, Central African Red Colobus, Blue Monkey, Red-tailed monkey, Vervet monkey, grey-cheeked mangabey, baboon, and Dent's mona monkey. Nocturnal primates includes Potto and Bush baby. Other game though rarely seen because of their shyness includes the forest Elephants and Buffaloes.