Gorilla Habituation Experience – 4 Hours with Mountain gorillas in Uganda.
If you want more, there is Gorilla Habituation Experience which offers you the option to spend 4 hours with semi-habituated gorillas. In other words you track gorillas that are still wild and half accustomed to humans. That is different from visiting gorillas that are fully habituated.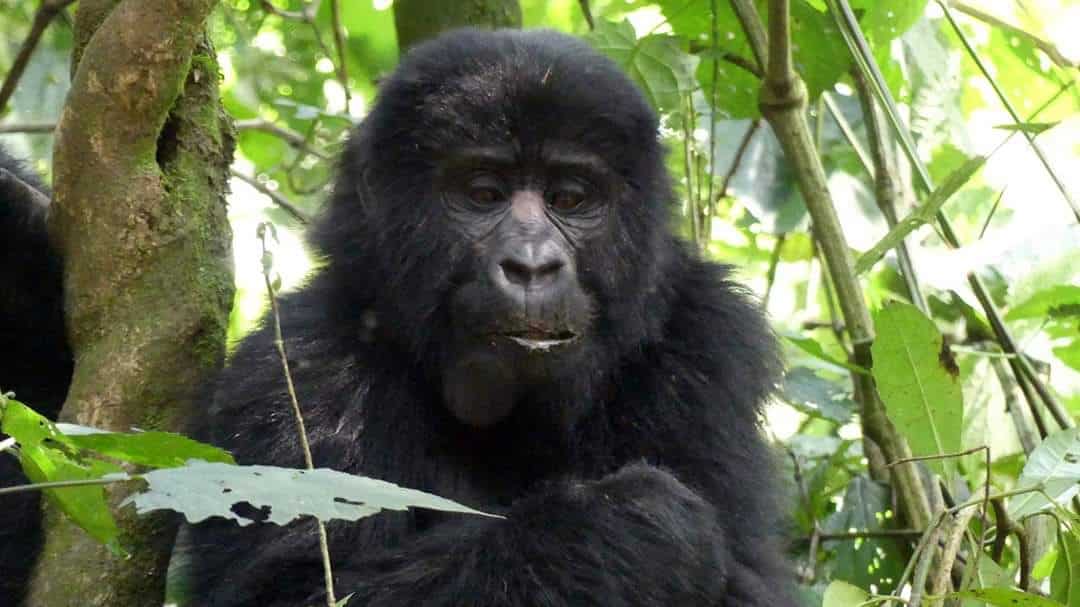 One hour with Mountain gorillas in their natural habitat is for sure a life changing wildlife experience according to many visitors who have done gorilla tracking in Bwindi impenetrable forest national park Uganda. Gorilla habituation experience is offered in Bwindi impenetrable forest national park Uganda and nowhere else.
The more time you get to spend with gorillas, the more the insight you get to know about the great apes. So you need to know the difference between gorilla tracking and gorilla habituation to be able to decide which experience that is best for you.
Many tourists prefer gorilla tracking because the high cost of gorilla habituation experience doubles that of gorilla tracking. Gorilla habituation permit is $1500 per person. Gorilla tracking permit is $600 per person. You can see why everyone can afford gorilla tracking and would probably return again for the same experience.
What is Gorilla Habituation Experience?
Gorilla habituation can be explained as a process of training wild gorillas to be accustomed to human presence. it has been a valuable tool for promoting gorilla tourism in Uganda.
There are two gorilla families currently undergoing habituation. that is Bikingi and Bushaho being habituated in Rushaga gorilla center south of Bwindi impenetrable forest national park.
training gorillas is based on making gorillas overcome human fear without changing their natural behavior. The researchers and trackers use research techniques that imitates what gorillas do such as chewing on vegetation, walking on knuckles and vocalizations.tourists are given opport
In that way, there's no threat posed to gorillas. However, in the first phase of habituation process, gorillas can show signs of human fear. the Silverback can react by beating its chest to scare you away or move away from the sight of the researchers and trackers.
nevertheless habituation remain a safe experience for tourists. and the number of tourists is restricted to only four tourists so as not to overwhelm gorillas. the visitors are accompanied by rangers and researchers who know how to approach the gorillas keeping it safe for tourists and the gorillas.
How is Gorilla Habituation Experience done in Uganda?
Researchers keep on following a particular family of gorillas repeating the same activities until the gorillas get used to see humans. habituation is a long research process that can take up to 3 years before the gorillas are declared ready for tracking.
Tourists are given a chance to participate in the gorilla habituation experience where they go in search of the gorillas. and once they are located, you spend 4 hours with one of the gorilla families.
How to Book Gorilla Habituation Experience Permits.
With four visitors allowed per one gorilla family, Each day there are eight permits available for booking in Rushaga. Booking in advance is required through a registered tour operator or Uganda wildlife authority.