10 Day Murchison Kibale Bwindi and Lake Mburo Safari
This 10 Day Murchison Kibale Bwindi and Lake Mburo Safari give you a full highlight of Uganda Tourism. Coming face to face with the remaining mountain gorillas in the Bwindi impenetrable forest marks the climax of your Uganda safari. Not only tracking the mountain Gorillas is interesting but also the Kibale forest gives you a breath take after finding the chimps and other primates.
Day 1: Kampala – Murchison Falls National Park
Murchison falls National Park is the biggest national park which covers 3,840-sq km and it's good for game drive because it contains the big five and 450 bird species. You will drive to the "Top of the fall" for mighty sightseeing of the Nile as it forces its way through a rocky gap barely six meters wide. In the evening you will have a game drive in the northern part of the park.
Dinner and overnight at;  Sambiya River Lodge / Red Chilli Camp, Nile Safari Lodge, or Paraa Safari lodge.
Day 2: Game drive and Boat Cruise.
This morning you will start with a game drive in search of those that are unique features of the African Savannah like giraffe, antelope, lion, elephant, oribis, Jackson heartbeaste, and the Uganda kob. The birdlife is spectacular, with the eagle being one of the prized sightings and the rare shoebill.
After lunch, you will relax from a launch cruise on the Nile River. This cruise takes you to the Bottom of the thundering and mighty falls where you will see huge crocodile bars, schools of hippos, lonely buffaloes especially, elephants, and a variety of water birds like herons, cormorants, ducks, bee-eaters, kingfishers, skimmers, and fish eagles and sometimes the rare shoebill.
Day 3: Leave for Fort- Portal.
Have breakfast, drive to Fort portal with lunch en route. You will drive through traditional homesteads and farms and this will enable you to enjoy the beautiful scenery across that part of the country.
Dinner and overnight at Ndali Lodge/Primate Lodge/ Kibale forest camp.
Day 4: Chimpanzee Trekking.
Kibale National Park is one of the most beautiful, stunning, and attractive forests in Uganda. It is home to our closest living relatives the endangered Chimpanzee, the threatened Red colobus monkey, and the rare L'hoest's monkey. You will see the chimps and other primates totaling 13 species including the Black and white colobus, Blue monkey, Grey-cheeked mangabey, Red-tailed monkey, Bushbabies, and Potts.
After lunch, you will go and visit Bigodi Wetland Sanctuary from where you will take on a guided walk around the Swamp which will give you an opportunity to see a wide range of flora and fauna.
Dinner and overnight stay at Ndali Lodge/Primate Lodge/ Kibale forest camp.
Day 5: Leave for Queen Elizabeth National Park
After breakfast, drive to Queen Elizabeth National Park viewing the mystical Rwenzori Mountain range for much of the journey. Check-in at your accommodation facility as you wait for your lunch.
After lunch, take on an afternoon Launch cruise along Kazinga Channel – one that joins Lakes Edward and George. The cruise is a wonderful way to see hippo, buffalo, Kob, and the occasional Nile crocodile (which up until recently did not inhabit this area), and a spectacular bird watching on the water bank. Return for dinner.
Overnight. Katara Safari Lodge, Simba Safari Camp/ Ihaamba Safari Lodge/ Mweya Safari Lodge/ Jacana Safari Lodge.
Day 6: Game Drives
Have packed breakfast and take on a morning game drive to catch up with the early risers and predators returning to their hideouts. You may meet grazing Hippos, Elephants, and Lions, spotted Hyenas, bushbuck, waterbuck, stripped jackal, warthogs, and the elusive leopard.
Continue to Maramagambo forest for many surprises await you here like pythons are often observed in the crevices of the bat cave floor making the bats their main dish and dessert as well. The cave is near a picturesque formerly Blue lake and Hunters cave. You may also encounter forest birds such as bat hawks, brown eared woodpeckers, and other primates. Return to the lodge for dinner and overnight.
Day 7: Drive to Ishasha
After breakfast, you will have your packed lunch and proceed to Ishasha. You will drive along the deep and wide dry craters that are occupied by savanna grasses and acacia. The drive will take you through the unique western rift valley escarpment mainly the Ishasha sector where you will take on yet another game drive in search of tree climbing lions before proceeding to Bwindi Impenetrable National Park.
The journey may take around 4 hours but drive through interesting features. Arrive at Bwindi Impenetrable National Park in the evening.
Dinner and overnight stay at Gorilla Safari Lodge / Buhoma Lodge / Buhoma Community Rest Camp (Bandas).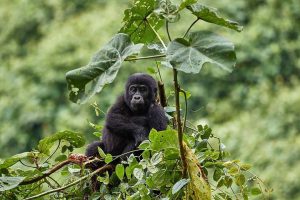 Day 8;
After having breakfast set off early with guides to trek the Uganda gorillas. The thrill of your encounter will erase the difficulties of the potentially strenuous trek. Bring jungle boots and rain jackets because the park is often wet.
Each encounter is different and has its own rewards, but you are likely to enjoy the close view of adults feeding, grooming, and resting as the youngsters frolic and swing from vines in a delightfully playful display.
There's also a substantial chimpanzee population and research shows that Bwindi is the only forest in Africa in which these two apes live together. Return to camp exhilarated to relieve the encounter with friends over a drink.
Dinner and overnight at Gorilla Safari Lodge /Buhoma Lodge (Homestead) / Buhoma Community Rest Camp (Bandas)
Day 9; Drive to Lake Mburo
Early breakfast, drive to Lake Mburo National Park lunch on the way. You will reach in exact time for a boat ride on Lake Mburo. Its presence within the park is a blessing worth mentioning. The lake is rich with a diversity of animal and plant species which will be viewed clearly as you are on the boat trip.
Expect to see hippos and birds like African Fin foot, Pelicans, Black crake, Heron, cormorant, fish eagle, you may also sight the rare Shoebill Stork and all these will furnish your visit with pride.
Dinner and overnight stay at / Mihingo Lodge/ Mantana Tented /Camp Arcadia Cottages.
Day 10: Morning Game and Drive to Entebbe

After an early breakfast, take on a morning game drive. Lake Mburo National Park is a very special place; every part of it is alive with variety, interest, and color. It contains an extensive wetland. You are likely to see elands, impalas, waterbucks, warthogs, topis, and zebras. After the game drives us en route to Kampala.
End of 10 Day Murchison Kibale Bwindi and Lake Mburo – Safari